I remember summers spent at my Grandmother Ross's ranch home in Prineville, Oregon. Some years our cousins from Wisconsin would visit, and we always had a barbecue, picnics, and Grandma's macaroni salad.
Macaroni Salad and America-
Macaroni salad is one of those humble, simple American dishes that started in home kitchens. The ingredients were cheap-dried pasta, a few vegetables, and always a dressing, usually mayonnaise. For fancy dinners, shrimp or canned tuna might be added.
Macaroni salad has always been served cold, and from the start has always been popular as a side dish for summer barbecues and picnics.
Good Housekeeping Magazine was one of the top Women's Magazines back in the day and my Grandma had a subscription for decades. The magazine also produced a series of cooking booklets filled with recipes, photos, illustrations and ingredients. The 1958 Book of Salads had recipes for "Best-Ever Macaroni Salad," with celery, green onions, radishes and a mustard, vinegar and mayonnaise dressing.
"Sea-Food Macaroni Salad," included salmon or swordfish, shrimp, celery, cabbage and eggs and was tossed in a piquant French dressing.
Today, macaroni salad is a Hawaiian staple, always served as part of a Hawaiian plate lunch along with a huge scoop of white rice and meat, usually kalua pork or teriyaki chicken.
Grandma Ross, an excellent home cook-
My Grandma Ross was a stoic woman, the stock of pioneers who came across the Oregon Trail to settle a ranch in Prineville in Central Oregon. She was one of the earliest women graduates of Oregon State College in 1919 with a degree in Home Economics. That's where she learned the details and science of cooking. Combined with the art of a farm cook, she was a fabulous home cook.
Macaroni Salad-The Basics-
The basics for macaroni salad are always the same, with a few variations-
Elbow macaroni is the standard, usually the smaller size. Spiral, and tri-color spiral pasta is o.k., but anything like spaghettie or other types of pasta are a no-no. Bowties and radiatorre are fine, and fall in the "new-style" of macaroni salad.
Mayonnaise and mayo-based dressings are the standard. Today folks like to use Caesar or bleu cheese to dress macaroni salad which is delicious, but today we're sticking with tradition.
Fruit isn't included in macaroni salad. In Hawaii you won't find macaroni salad with pineapple.
Miracle Whip or Mayonnaise?-
In our family, there was a lot of argument over the question, "Miracle Whip or Mayonnaise?" I detest Miracle Whip, too sweet and sticky for me. Mother and my Sister were also in the mayonnaise camp, but Father and Grandma liked Miracle Whip. It doesn't matter, use what you like, but fresh mayonnaise made at home just can't be beat.
Mayonnaise is one of the top condiments for over 125 years, and we've been keeping a jar in the fridge ever since.  But there are those times when homemade mayonnaise gets the call, and it couldn't be easier to make.  With just a few ingredients and a blender, you'll craft homemade mayonnaise in minutes and once you taste the difference, you'll know why this is one of our most cherished recipes.
Making Fresh Mayonnaise at home is incredibly easy and takes under five minutes.  It has a rich, deep flavor and egg color and you can vary the flavor with different oils, herbs and seasonings.
Eggs, Olives and Bell Pepper-
I always say keep those old kitchen gadgets. You never know when they'll come in handy. Ever seen this egg cutter? Just place a hard-boiled egg in and press down and the wires perfectly slice the egg. Turn it halfway, press down again and you have chopped egg. I'm not sure where this one came from, Grandma, Great Aunt or my Mother, but I still use it a lot.
Sure, you can do it by hand but it won't slice evenly with a knife. Those plastic As Seen on TV gadgets don't always work, and the food processor runs too quick. So if you have one in the drawer or find one at the vintage shop, but it. They still make them and metal is more durable than plastic.
In Grandma's recipe she used two kinds of olives, black and green olives stuffed with pimentos. There were lots of olives in recipes starting back in the early 1900's, and lots of green olives and pimentos. I like the play of flavor between black olives and more tangy green olives.
For vegetables we use chopped chives and diced red bell pepper, but choose any vegetable. Diced cucumber, diced zucchini, whatever is in season and sounds good.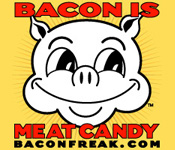 One ingredient that surprised me was that Grandma included bacon. She cooked a lot of bacon for breakfast and used it in a hot spinach salad, but I never thought to include it in a cold macaroni salad. It's perfect, crispy, salty and porky.
Pack the Salad for a Picnic-
If we were going on a picnic, Grandma would have put the macaroni salad in a Pyrex bowl and covered it with Saran wrap. Then on ice in the cooler it went. Back then, anything with mayonnaise in it had to be kept on ice, which is good advice today.
Grandma Ross's Macaroni Salad
I remember summers spent at my Grandmother Ross's ranch home in Prineville, Oregon. Some years our cousins from Wisconsin would visit, and we always had a barbecue, picnics, and Grandma's macaroni salad.
Ingredients
5




cups




cooked small elbow macaroni

2




hard-boiled eggs, chopped

½




cup




sliced black olives

½




cup




sliced green olives stuffed with pimentos

3




sliced




cooked, crispy bacon, broken into pieces

½




cup




finely diced red bell pepper

1




tablespoon




chopped chives

2




tablespoon




chopped curly parsley

1




teaspoon




eacj salt and black pepper

¾




cup




mayonnaise
Instructions
Cook the elbow macaroni in salted, boiling water, 10-12 minutes until soft. Rinse and drain the pasta.

In a large bowl, add the macaroni, hard-boiled eggs, black and green olives, bacon, bell pepper, chives and parsley. Season the salad with salt and pepper.

Add the mayonnaise and thoroughly combine it with the macaroni salad. Serve cold.
Recipe Notes
Add more mayonnaise if you like the salad more creamy.